Arctic Road Trip
A 7,049-mile round trip to the Canadian Arctic and Alaska
July 25, 2003 - August 16, 2003
(Links to lots of photos are below!)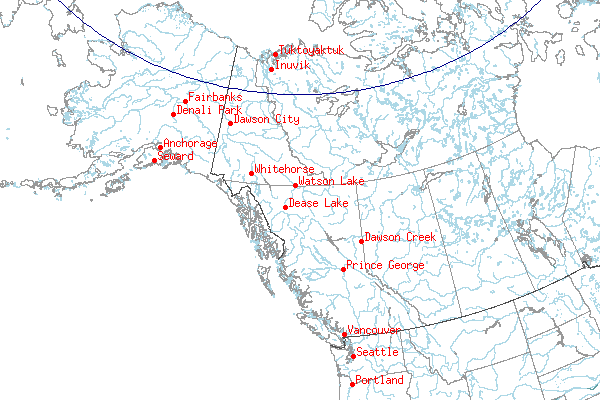 The goal of this road trip was to drive my 1994 Honda Accord into our planet's arctic regions north of the Arctic Circle. I also managed to get in quite a bit of sightseeing at other "Far North" locales, such as the subarctic regions of the Yukon Territory and Alaska.




| | |
| --- | --- |
| Odometer reading before the trip: | 176,776 miles |
| Odometer reading after the trip: | 183,825 miles |
| Flat tires: | 1 |
| Windshield rock chips: | 3 |
| Nights spent in hotel rooms: | 13 |
| Nights spent sleeping in a tent: | 8 |
| Nights spent at a primitive hostel: | 1 |
| Fun had: | a whole lot! |


Photos I took on this trip are separated into these 13 pages:

Leaving Portland, and traveling through British Columbia to the town of Prince George.
Arriving at the southern terminus of the Alaska Highway in Dawson Creek, BC, and traveling north towards the Yukon.
Traveling on the Alaska Highway in the Yukon through the towns of Watson Lake and Whitehorse, and traveling the Klondike Highway north through the territory.
The scenic 450-mile gravel road leading to the Arctic.
The arctic towns of Inuvik and Tuktoyaktuk in Canada's Northwest Territories.
The drive back south on the Dempster Highway
Home of the Klondike Gold Rush.
Driving the Alaska Highway to Fairbanks.
Home of the highest point in North America.
Some nice scenery from southern Alaska.
Traveling from the Anchorage area back to the Yukon.
Some more photos of Whitehorse on this return visit through the town.
Northwestern British Columbia along BC-37, Quesnel, the BC-99 route through Lillooet and Whistler, crossing the border, and some post-trip car photos.